Mary to Bay Rail Trail Home



M2BRT = Mary to Bay Trail. FCBUG = Fraser Coast Bicycle Users Group
FCRC = Fraser Coast Regional Council DTMR = Dept Transport and Main Roads
Piggford Lane to Stockyard Creek & beyond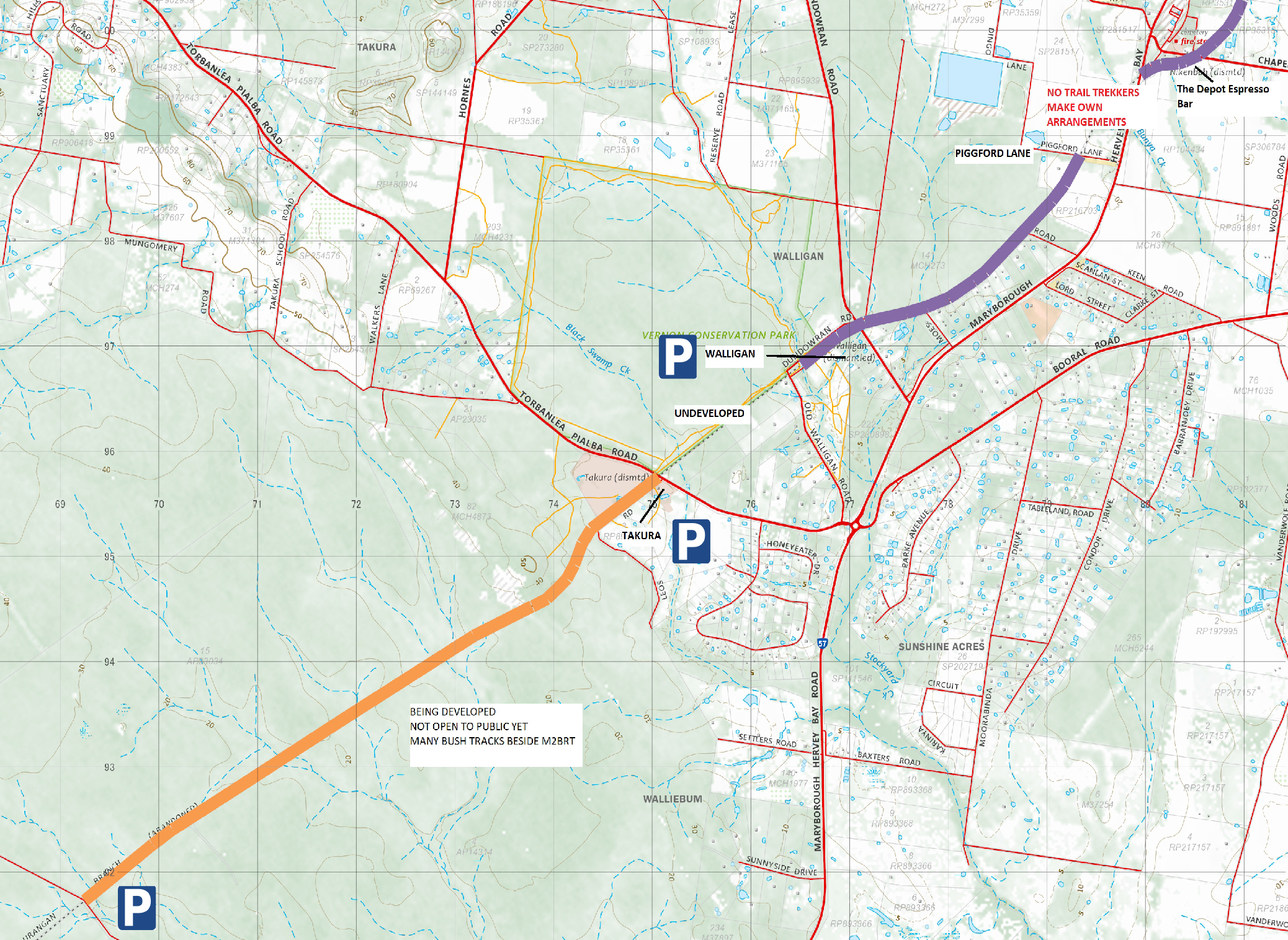 Urangan Pier to Churchill Mine Road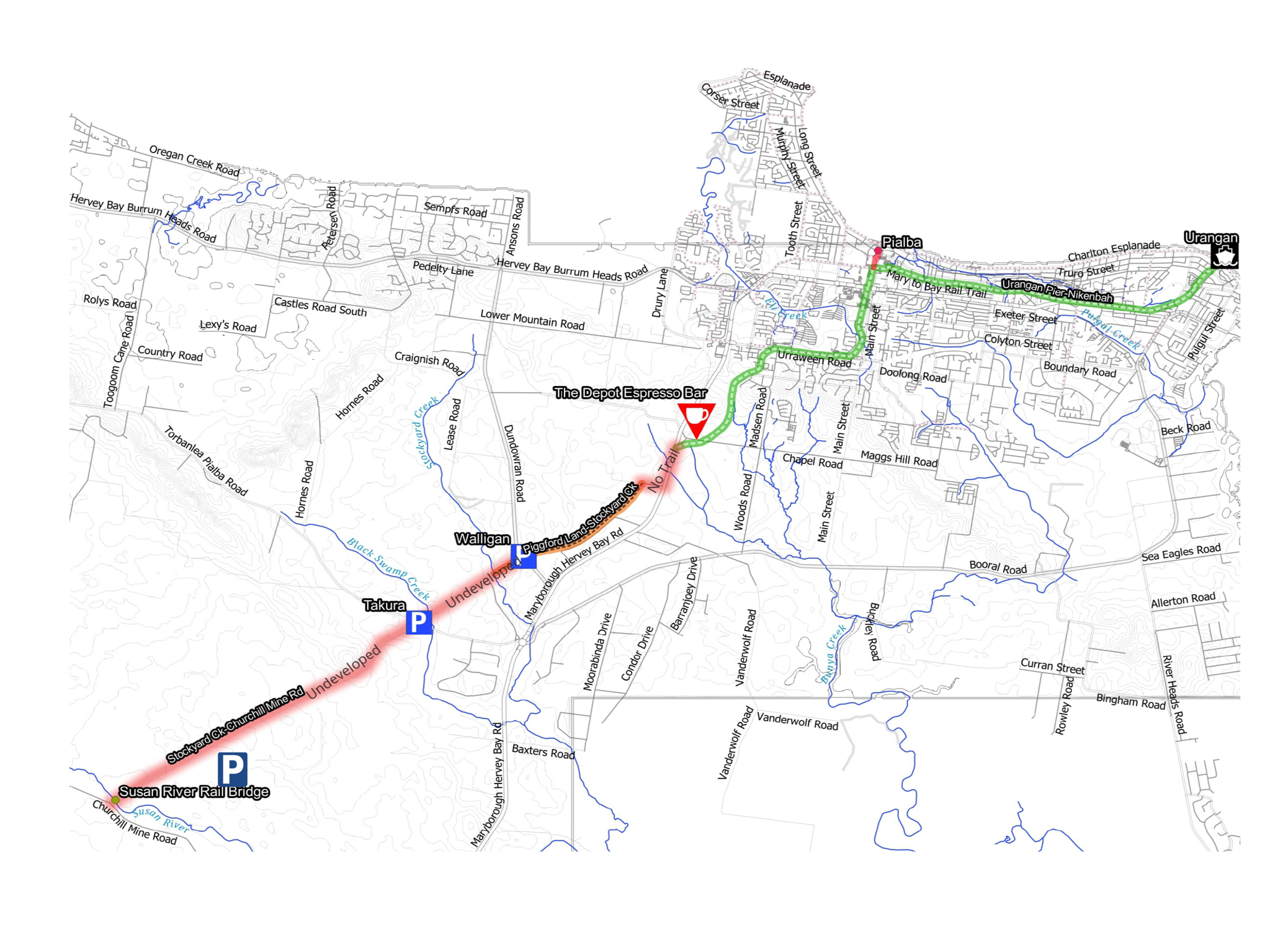 FCRC Media Release re Mary to Bay Rail Trail
PROJECT MANAGER'S REPORT - Ken McDonald
July
Slashing and clearing  of trees occured at Takura Siding
FCRC approved allocation of 40 trees to be planted at Takura. The trees will be planted in conjunction with local Indigenous representatives.
A Takura sign for the Siding has been assembled and will be erected later in the year.
Access licence requested from DTMR for 3.8km west of Churchill Mine Road
June
The Working Bee at Takura Siding went ahead on 15 June. Some progress made mowing  and whipper snipping thick long grass. Plan to get a slasher in when it's dry enough.
5 x 3m galvanised steel pipes purchased, to be embedded in crossings later in the  year (when it's dry). Timber for Takura sign also purchased.
On 17 June, a positive meeting held with Bruce Saunders, MLA Maryborough with Project Team representatives. Report circulated to FCBUG members.
Various  meetings held by Project Manager with New Colton mining company, Glen Miller, local Butchulla man, re naming gullies and Stratco manager re supply of rest shelters.
Max Voigt will be our representative on the FCRC Advisory Committee, the first meeting possibly being held in August.
AMBASSADOR'S REPORT - Dave McLeod
July
M2BRT Discussion Group (FB) expanded to 1,800+, with posts regularly receiving 1.2k hits indicating that word is getting out and interest in our rail trail progress is increasing.
Brochure distribution continues at a steady pace, regular refills needed at The Depot, cafes and bike shops.
Boyne Burnett's (BBIRT) bridges section (Mt Debateable to Mundubbera) opens 10 September, all welcome to attend and to show our support. This scenic ride won't disappoint
June
The Mary to Bay Facebook Discussion Group has reached 1,700 participants and growing. Regular queries on where the Trail is and where to ride  are being asked,  some participants are answering these questions and sharing experiences, one core goal of the Group from the outset.
Brochures are steadily being taken from The Depot, which is encouraging.
FCBUG members Bob Webley & Wayne Stark assisted Desley O'Grady auditing the Mundubbera to Mt Debateable section of BBIRT, preparing for the opening of that section on Saturday September 10.