Mary to Bay Rail Trail Home



M2BRT = Mary to Bay Trail. FCBUG = Fraser Coast Bicycle Users Group
FCRC = Fraser Coast Regional Council DTMR = Dept Transport and Main Roads
Piggford Lane to Stockyard Creek & beyond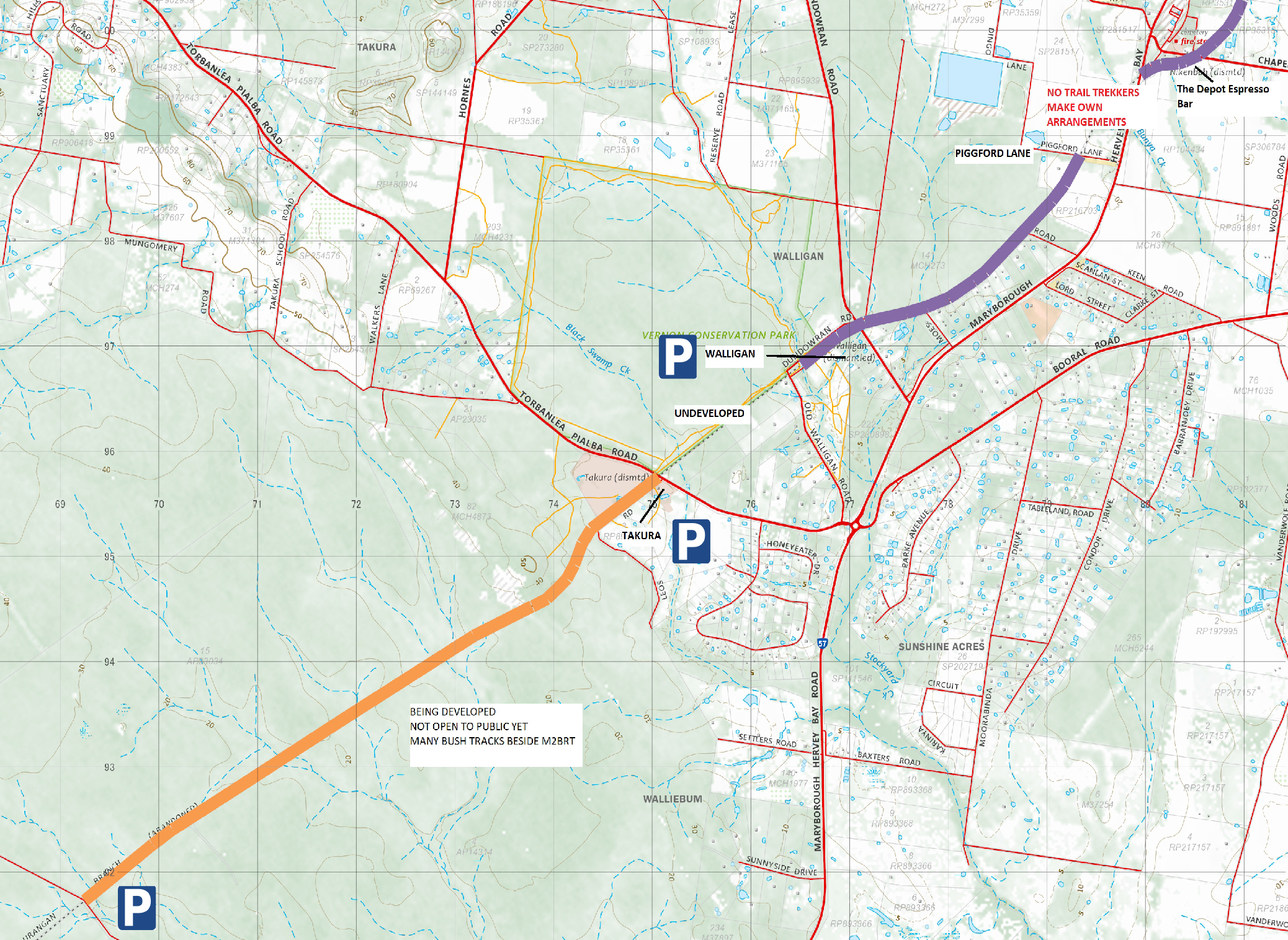 Urangan Pier to Churchill Mine Road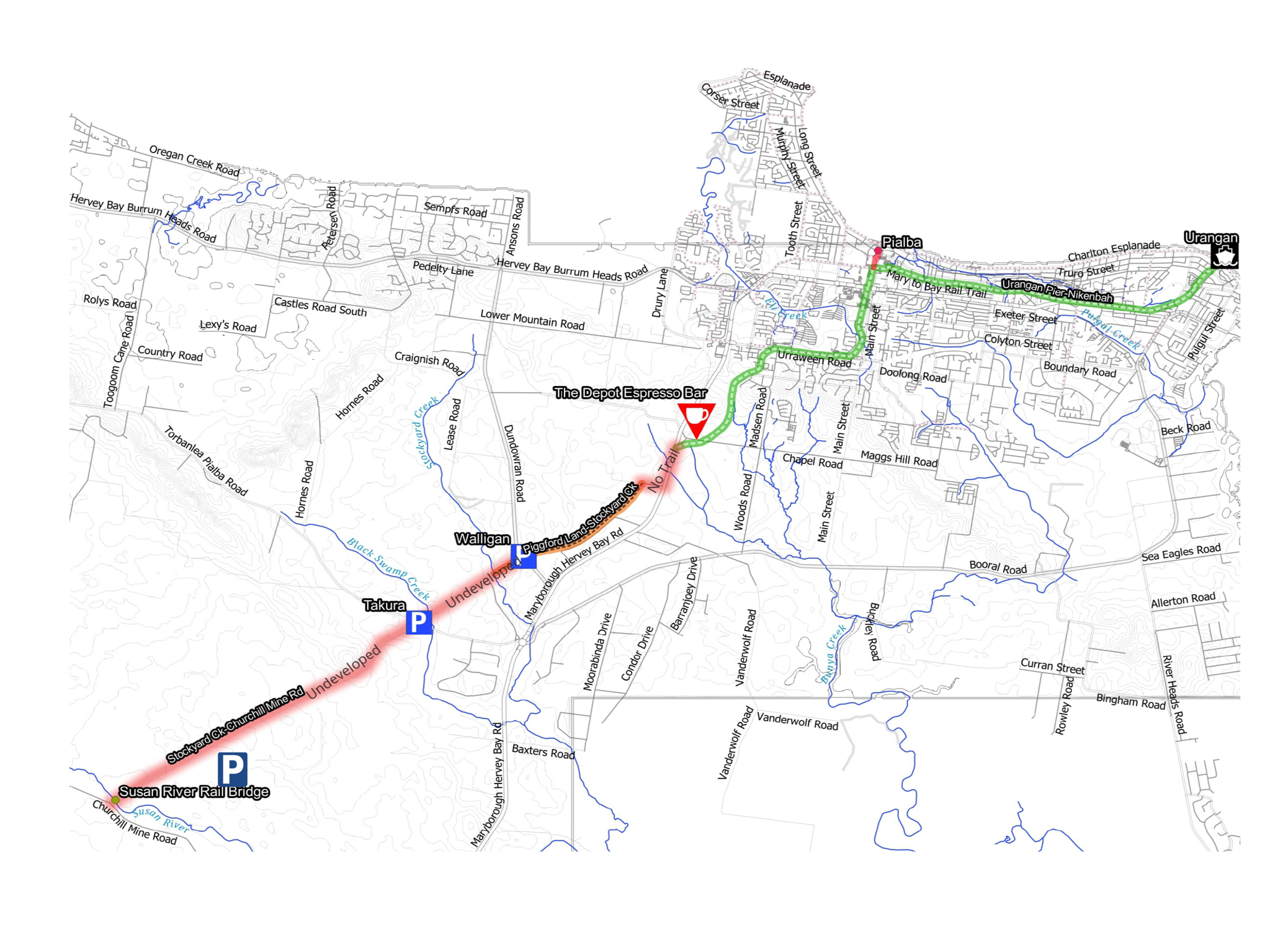 FCRC Media Release re Mary to Bay Rail Trail
PROJECT MANAGER'S REPORT - Ken McDonald
November
November was a very big month for action. Low rainfall helped. David Lightbody did more mowing at Takura. Tina Ravenueau and a team of trainees had to water 40+ plants at Takura due to dry weather.
The 20m long Geohex trial at Bridge 6 near Takura was completed.  Rocks were placed on the downstream side of the Geohex to reduce erosion.
2 steel galv pipes were installed at Bridge 6 and 4 concrete headwalls were constructed.
2 of the last 3 bollards were installed so Bridges 4, 5 and 6 will have a bollard at each end.  This should deter 4WDs.
Steve Nielsen and his excavator were contracted for the pipe laying. Rick McNamara, not a FCBUG member, volunteered to supervise the Geohex laying, pipe laying and headwall construction. We are very fortunate to have such a capable person to help.
Thanks to a long list of volunteers in the field, John Williamson (Wildlife Society) and several FCBUG members.
The second M2BRTAC meeting with FCRC will be held mid-December, deferred due to illness.
DTMR issued FCBUG an extended Access Licence to include 3.8km west of Churchill Mine Rd.  It's already been mowed and is in good shape.
DTMR donated 30 PVC guideposts to highlight culverts west of CM Rd. Bob & Wayne have started installation.
Bob Webley, Dave McLeod & I manned the new gazebo at the Hundy Tri Expo at Scarness. Thanks to Peter & Darryl for sorting the gazebo. Dave organised a set of very good photos and maps. Many people have been following the work progress on Facebook.
More people are now using M2BRT, several have travelled significant km
October
David Lightbody acquired a ride-on mower and mowed Takura as a test run. Long grass has been whipper snipped too.
Tina Raveneau led a team of Cert III Conservation and Ecosystem Management trainees to plant and mulch over 40 plants at Takura.  They did a great job at no cost to the Project. Takura is transforming.
The Geohex trial at the first Bridge Takura was laid on 31 Oct. Led by Rick McNamara, many helped with the prep work – thanks to Mark Andrews, Dennis & Lorna Johnson, Brian Harvey, Barry Callow.
The hardwood sleeper boardwalk on the 12m non-bridge was completed. Thanks to all – David Lightbody, Dennis Johnson & Bria Fielding. It works well.
3 of 6 round bollards have been installed in the middle of the earth ramps at Bridges 1 and 3. Thanks to Rick McNamara, Martin Grant, Bob Webley, Wayne Stark, Dennis Johnson and David Lightbody. The last 3 are challenging to access with wet gullies.
The first Advisory Committee meeting took place.
More people are using M2BRT. Several people have travelled significant km to do so.
September
Takura Parkland has been mowed and is starting to look good.
Bob Webley, Dennis Johnson, Norm Drinnan and Ken did some shovelling and wheelbarrowing to prepare for the Geohex trial at the first Bridge after Takura. Other minor work done too.
A task list of Volunteers was emailed out  and had a reasonable response. I will contact people as required. We will need 5 volunteers when we are ready to concerete the pipe ends on Bridge 1 some time in October after the bulldozer in through, scheduled 4-5 Oct.
The first Advisory Committee meeting with FCRC was delayed due to public holiday on 22 Sept.
There is still about $9,000 of DTMR grant to be spent between now and mid 2023. We will definitely need it  …….. and probably more.
August
August was low rainfall.  Takura Parkland and our 7km section has been mowed with volunteers. The trail looks very good.  The 5 gully crossings need work. 2 are easy. 3 are more challenging.
We are hoping for enough dry weather to get the small bulldozer in to relocate some ramps and do some drainage work.
An Access Licence from DTMR, to clean up 3.8km west of Churchill Mines Rd was approved.
We are doing some preparation work before the first Advisory Committee meeting with the FCRC later this month.
Still about $10,000 of the DTMR Grant left to be spent between now and mid-2023. We will definitely need it … and probably more.
AMBASSADOR'S REPORT - Dave McLeod
November
Nothing new to report on the Ambassador front except that there is ongoing growth in interest which I'm finding incredible… more and more people you speak to in conversation around town are becoming aware of it. Membership in the FB discussion page is currently almost 2400 members.
Was pleasing other day to have someone show me a town tourist map they had taken from a location around town… and there was the Rail Trail. So the new maps are out in use.
October
FB Discussion page has around 2,300 followers and is still growing. Now becoming more common to have people ask for infomation then a few days later, post on their ride.  More and more resources (phone screen size maps etc.) being uploaded
Some families have been sighted on the Rail Trail – I suspect this trend is growing.
The Wildlife Qld contingent have really taken a shine to the Colliery Circuit around the branch into Dunstan, Globe and Churchill mines, with up to 44 a trip.  This, of course, also makes the Rail Trail down that end busy at times, as that is part of the circuit.
Some mountain bikers are keen monitors and will be out riding befroe the rain stops, sending in vid clips of the gullies and drainage in action, which Ken finds most useful.
September

A quiet month but with some interesting developments. BBIRT Bridges Trail opened with 250 attending. Opportunity for Ken to talk to DTMR reps re development, support & contribution.
A chance to mix with wider Rail Trail community with our "buddy trail". Several RTA reps attended, many maps shared and conversations too.
Rider from Gosford railed to Gladstone then rode to event, using Packs & Saddles, new start up business supporting cyclists.  Discussion on using public transport to access rail trails for bike touring, incorporating more than one Trail.
August
FCBUG was well represented at BBIRT's opening of their Bridges Section of Rail Trail and after party in the old Gayndah goods shed.  A couple of hundred horse riders and cyclists attended, not many reps from 3 tiers of Goverment despite extensive invitations & publicity. The night ended with Ken performing his Rail Trail song.
Interactive mapping discussions held with Mark McLachlan, BBIRT President with IT bakcground –  ideal for our website, further liaison to occur.
The event was a great oppotunity to represent M2BRT, considerable interest shown as Trail progresses, many maps and emails issued afterwards. Recurring point in discussion was clustering of Rail Trails together in one trip – BBIRT & M2BRT, BVRT, K2K& M2BRT or all of them.